Setup your maintenance strategy
First and foremost, the Asset Register must be defined at the required level of detail in the EAM system. Knowing your Asset criteria is key. Second, we need to determine the level of care they need, or the maintenance strategy. In principle there are five strategies:
Run to Failure
Preventive Maintenance (time-based / usage based)
Condition Based Maintenance
Predictive/prescriptive Maintenance
Engineering Changes
Asset management maturity
Maintenance as an expense or maintenance as an investment. Finding the right balance in the asset management maintenance strategy in relation to the asset criticality, is a struggle for many asset intensive Organizations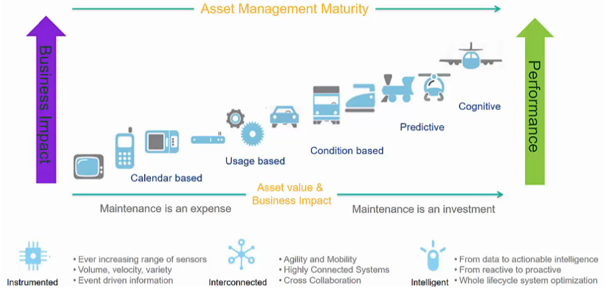 EAM is part of our DNA
ZNAPZ has in depth asset management knowlegde as well long-term experience in implementing IBM Maximo EAM products and Watson IoT and APM add-ons. Our EAM implementation approach differentiates from others because of:
We have our unique "ZNAPZ way of working";
We use our "in house" developed toolset to accelerate EAM implementations;
We understand the EAM Business, its processes, required information and data, and supporting IT architecture and software;
We execute our Asset Management Maturity Assessment before starting the EAM implementation to identify the real As-Is situation;
We setup a phased maturity approach plan that is key for a sound and successful implementation;
We are preferred IBM design- and development partners for a wide range of Maximo EAM and APM products and have first time support directly from the IBM Development teams;
We are "early adopters" for IBM Maximo and APM product, such as Maximo Augmented Collaboration, Equipment Maintenance Insights and IBM Maximo Asset Monitor;
We have a real live Maximo Demo environment, including all Maximo EAM, APM2, PMI3 and Watson IoT product to demonstrate the entire pendulum of asset management strategies, as well as to accelerate and build specific customer use cases in a very short time.