Mobile – MAXIMO Anywhere
Mobile is one of the biggest trends in the IT world today. A Mobile Business Application has a lot more requirements than one should expect. Working in a mobile environment is something most are used to with smart phones and notepads.
Mobile Business Applications have many extra requirements
However developing, implementing and maintaining mobile business applications takes more than one at first sight could recognize. Just to think about managing the roll out of the apps, managing the data that are shared between server and mobile device and managing security are elements which do not have to be taken into account in the same manner in a web-architecture or client-server solution.
Mobile Solutions: advantages and a new way of thinking
A mobile solution offers lots of advantages: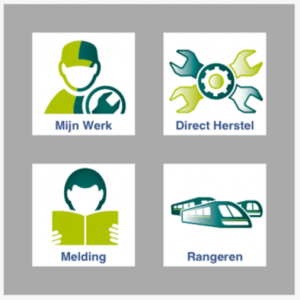 The user gets the information where it is needed, especially in a maintenance environment where the work isn't done behind a desk but in the plant or in the field.
The data that are gathered while the job is done can be registered immediately, preventing duplication of work and reducing a number of mistakes in the process.
Data are gathered immediately at the source. This requires however that the apps are really user-friendly. They will be used in the plant or in the field, while the user is standing up, in rain, or enduring other specific weather conditions. Especially for these environments the application should minimize data entry and maximize the support given. This requires a whole new way of thinking.
ZNAPZ is development partner for MAXIMO Mobile
ZNAPZ has become a development partner for the world of MAXIMO Mobile, both MAXIMO Anywhere and MAXIMO Everyplace are supported. ZNAPZ has built in depth expertise how these applications can be used the best possible way.
Mobile First
IBM's development environment is Mobile First, one of the leading development environments in the world of Mobile. This takes away issues like hardware independence and issues like security and application management. See further: our Mobile First link to the IBM environment.
More than 15 MAXIMO apps developed with Mobile First
MAXIMO has today more than 15 apps developed with Mobile First covering most of the requirements of the Maintenance, Logistics and Purchasing department. They are easy to implement and easy to maintain.
ZNAPZ can adapt applications to specific mobile user needs
With the right knowledge and experience, which is something ZNAPZ has developed over the last year, it is easy to adapt the applications to the specific needs of the mobile user.